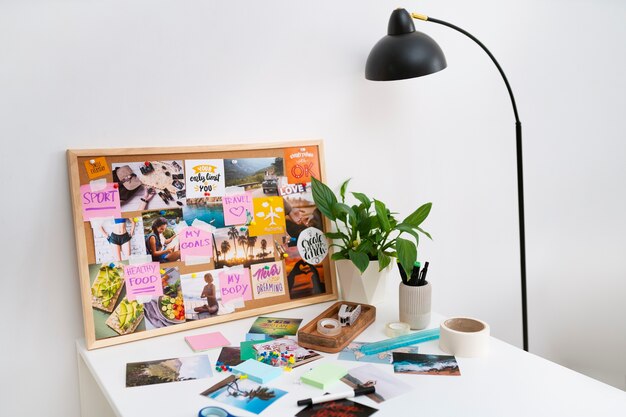 Vision is key to the progress of your copywriting career and personal life. The King James Version of Proverbs 29:18 says, "Where there is no vision, the people perish. Benjamin Franklin said, "Failing to plan is planning to fail." It does not matter whether or not you are religious or a fan of one of the Founding Fathers of the US. What matters is that without vision, you will most likely fail.
Something as simple as a vision board can help you stay focused. The beauty of a vision board is that you can create, update and even revise visible goals. When you create a vision board you are also creating accountability. It's an in-your-face inspiration tool that will inspire you to reach goals. Here are some tips to create the most effective vision board.
Keep it Simple
The first step is to buy a vision board. You can find them at any craft store. Once you decide on the size of the board, you can then begin to decorate it. Or maybe you can choose items you want to put on your vision and get a board that will accommodate your dreams. It is important to make it easy to see. Don't overload it with things that are not relevant to your goals. Pick out pictures, cutouts, items, etc. that will help you best visualize your goals and that are aesthetically pleasing. Many copywriters put up pictures of books, literary awards or pictures that represent recognition for their work. But this is a personal project so don't worry about what anyone else does. It only matters that it resonates with you.
Make it Fun
There is no one way to create a vision board. Choose items that you quickly can match to your goals and that are fun for you to look at. Vision boards are a great way of tapping into your creative side. You can choose a variety of medium to add to your board. Choose things that make you feel good about a goal. The key is to have fun with it.
Revise and Be Flexible
The board needs to reflect things that are currently important to you and that make you happy. Yes, happiness is part of the equation because without that element, you will probably get bored of keeping up with your vision board. Sometimes, you will need to enlarge or even decrease the size of your board. Nothing wrong with that. Be sure to get rid of pictures or items that no longer are part of your goals. You should also remove things that were part of an accomplished goal. Onward and forward!
A final word: Vision boards can be physical boards or digital. The most important factor is that you place it where you can see it everyday. Don't overwhelm yourself or your board. It needs to be a constant reminder of your desires, goals and things that bring joy to your life!
Happy writing!